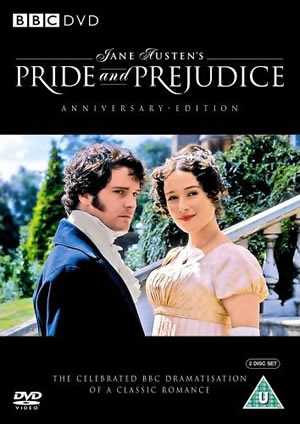 Jennifer Ehle as Elizabeth Bennet
Colin Firth as Mr. Darcy
6 episodes
Based on "Pride and Prejudice" by Jane Austen
There have been other movies based on this book, but this one is by far the best in my opinion! It follows the novel pretty close, it's accurate and soooo romantic. I've watched it like 4 times so far (once a year maybe

) and I never get tired of it. I love the story because it's so genuine and it's like perfectly girlish

I also find those times very interesting… they were so behind with technology and had all those behavior rules. Fascinating!
I consider "Pride and Prejudice" the best novel by Jane Austen.
And Colin Firth did such a great job with Darcy! It was a role of a lifetime… He was really good!
Don't know what else to say about it except that it's great and I totally recommend it as a romantic escape 2 centuries ago


Being a 6 episodes miniseries they had plenty of space to go by the book, comparing to Pride and Prejudice (2005) with Keira Knightley which was pretty good… I didn't like Keira's style in this movie… she kinda overacted…
I started a BBC miniseries rush a while ago and I'll be back with more comments about them.
Let me know if there's something else like this one worth watching!