So many memories from childhood…

I keep remembering about cartoons/animes I used to watch. There are so many and for some I don't even remember the name… Anyway I started watching some series I downloaded and today I'll be talking about My Daddy Long Legs.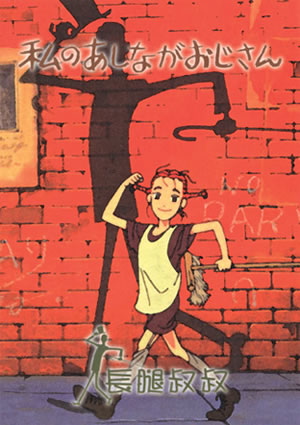 I didn't get to fully watch it back when I was a kid. I was in fifth grade when it ran on Italian television under the name "Papa Gambalunga", but of course I didn't (and still don't) speak Italian and could only understand 20% of it, but I've always wanted to know more about it and so I watched it again last month. I had like a marathon, couldn't stop watching


So the anime series has 40 episodes, was made in 1990 and is based on the novel "Daddy Long Legs" written by Jean Webster.
The series was awarded the Excellent Movie Award for Television by the Japanese Agency of Cultural Affairs for Children in 1990 and it's part of "World Masterpiece Theater" (anime series based on classic novels).
Original title is "Watashi no ashinaga ojisan" (I learned some words in Japanese since I started watching animes and it's a lovely language!).
I haven't read the novel before watching the anime series so it was all new to me.
So let's talk a bit about the story. The actions happens in United States and it's a romantic tale about an orphan girl, Judy Abbot who is living in John Grier orphanage. She gets to go study at Lincoln Memorial High School because an essay she wrote impressed a rich man who offers to sponsor her studies, becoming her benefactor. He has few conditions: she has to write him letters every month, but she is to expect no answer and she cannot find out who he is, therefore he goes by a fake name: John Smith.
She calls him "Daddy Long Legs" because she has seen his shadow once and it appeared as if he had really long legs.
Being in school she makes friends, she studies to be a writer and she finds love. The end is quite nice, really fit for a shojo anime (for girls).
Characters:
Judy Abbott – our orphan heroine who looks like Pippi Longstocking with the braided red hair

She's called Jerusha Abbott in the novel (and later on she changes her name in Judy).
Sallie McBride – Judy roommate and best friend.
Julia Pendelton – the other roommate who's a bit snobbish at first, but then she becomes Judy's friend.
Joanna Sloane – the manager of the dormitory, a single older girl, who always has rules.
Jervis Pendelton – Julia's uncle, a young business man, who becomes Judy's friend…
Walter Grigs – secretary of Judy's sponsor.
Jimmy McBride – Sallie's elder brother, a player at Princeton University football team. He likes Judy, and Julia falls in love with him.
Bob – captain of Princeton University football team, later he'll be Sallie's boyfriend.
OK that's all I'm gonna say about this series, so have fun if you decide to watch it!