Manowar concert was crazy!!! The Sonisphere organizers kinda screwed us. On the tickets and the posters they said "Manowar + special guests", but actually Manowar got to play only for an hour before another band… so much for Romanian concert organizers. Anyway apparently, they did better with the other 2 Sonisphere days (Metallica and Rammstein).
Here's us before the concert and the rain started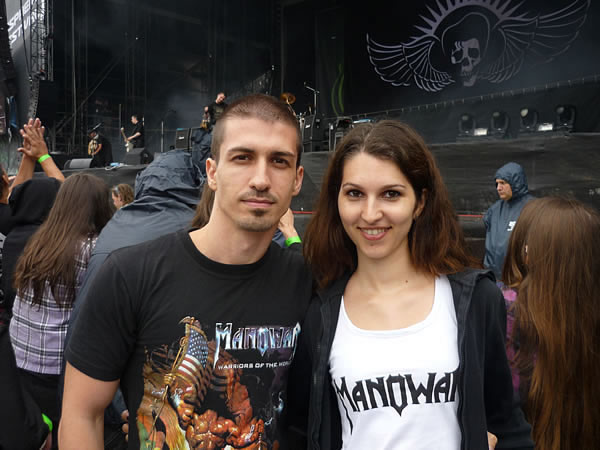 Yeah, it did rain, but not too much and I got to stay in the front row again and it was awesome! When the concert started it was all better, you wouldn't even feel the rain anymore.
Eric Adams said to me (as I was leaning over the fence to film): "You know this one, honey?" 😛
Before Manowar there were 3 other bands playing amongst which was Paradise Lost (too heavy) and Volbeat from Denmark and they were actually quite good, fun and entertaining.
Check out what I filmed with the photo camera… the sound is bad because I was very close to the speakers and it was sooo loud! Yeah and that camera in front of the stage was always in the way…
I totally love concerts! Let's hope we'll see some other good ones soon!